I love decorating for Halloween, but I usually only do my front yard, which is huge, and my indoors. However, this year I decided that I wanted to spruce up my front porch a little. After all, it's where the kids come to ring the doorbell in order to receive their Halloween candy, but it's also a very small area. So how do you spruce up a small porch for Halloween? In collaboration with Lowes, I want to show you how.
As I mentioned, my front porch is rather small so there's not a lot of room for lots of decorations. You also don't have to spend lots of money to decorate, you can use a few of what you already own. When fall rolls around, I usually have a few bales of hay and a mini scarecrow, but this year I wanted to add a bit more. It didn't necessarily have to be scary, however it should reflect the holiday. So I took a trip to my local Lowes to see their Halloween product offerings. I was truly impressed and I managed to pick up quite a few pieces that I knew I couldn't live without. So what did I get and how does it fit in with my project? Let's begin.
First choose your theme
What exactly are you looking for? Do you want a spooky theme complete with fog or something simple? However, you may want it to fit into your neighborhood theme or the look of your home. A quick look on Pinterest can give you a few ideas on what you would like to have. Saving photos on your phone when you go shopping can help make your shopping experience much easier.
Set a budget
Knowing how much you are willing to spend is always a great way to start. You don't want to overspend, if you really can't afford it. Luckily, Lowe's offers great values on the latest spooky décor to deck out your home for Halloween.
Dress up your doorway
No matter how big or small your front door is, a Halloween wreath gives it that added holiday touch. It shows that you are into the season and spruces up your front door. I picked up this Halloween Wreath with LED lights, decorated with black leaves and purple and silver glitter accents. Adding a Halloween themed doormat will also give it a festive touch, and don't forget your candy bowl.


Pumpkins of various sizes
Adding pumpkins of different heights and sizes will give it a unique touch. After all, what is Halloween without pumpkins. You can make a pumpkin patch and go with as many pumpkins as your heart desires. Light up pumpkins can look rather spooky in the dark.
Add an animated extra touch
To give your home a more spooky theme, you can add animated decor. Props that light up or move. For this I chose a tree greeter that gives an added faux flame effect. You get the effect of fire without actual burns. I also added a lamp post sign that came complete with added skeleton bones and signs leading to the dungeon or cemetery. It was the added spooky charm that I needed.
I'm not entirely sure that I am done with my look, but I had a budget that I wanted to stick to, and these are all items that can be reused, year after year. So next year there will be additions. There will be witches hanging from the roof, spiders along the wall and fog swirling throughout the decor. All of these things and more you can also get at your local Lowes. Amp up your home's spooky spirit this Halloween!
You can shop my front porch look by hovering over the photo below and clicking on the links, which will take you directly to each product.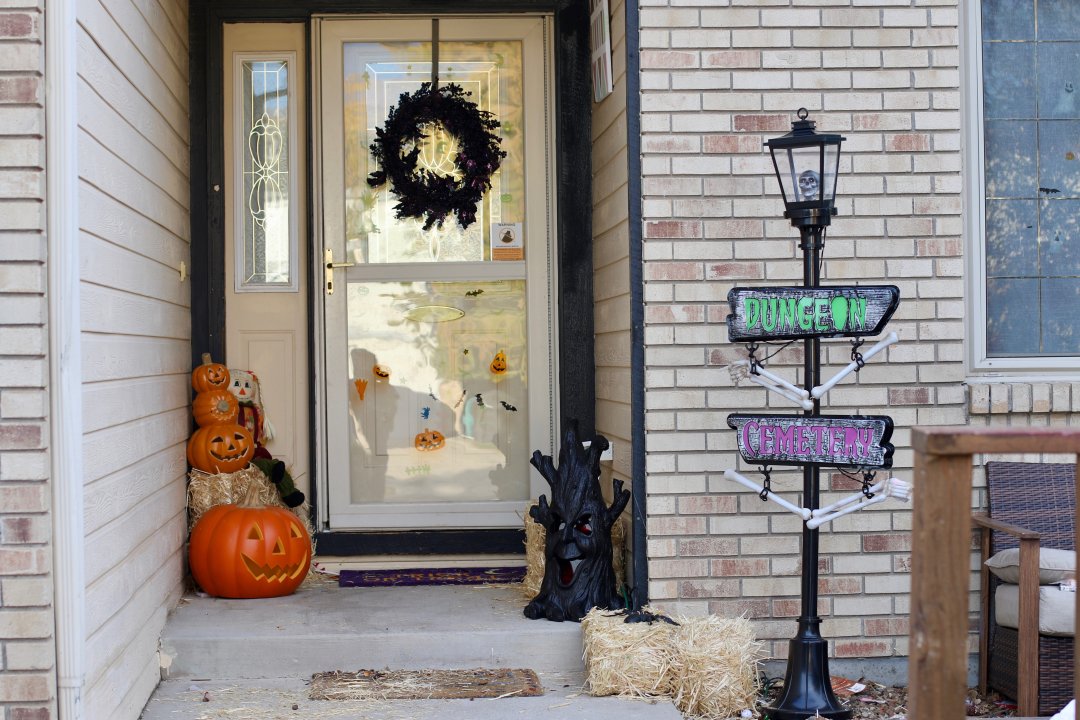 Have a Happy Halloween!